She Code Africa Cloud School Cohort 4 Application
---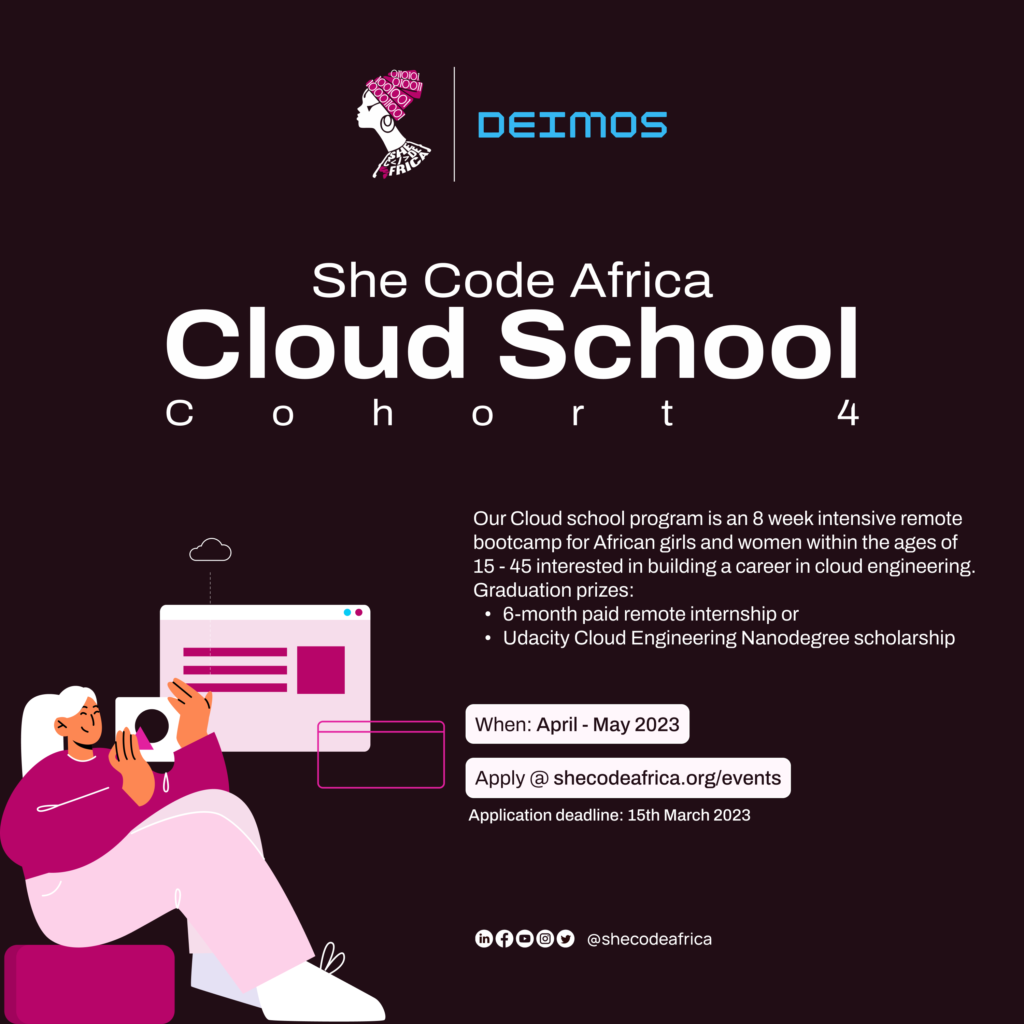 She Code Africa in partnership with Deimos is calling interested female applicants to apply for cohort 4 of Career in cloud engineering which will be from April to May 2023.
What is She Code Africa about?
We are a non-profit organization focused on celebrating and empowering young Girls and Women in Technology across Africa.
About the She Code Cloud School
The She Code Africa cloud School, Cohort 4 (in partnership with Deimos) is a 2-month cohort-style, boot camp program specifically targeted at ladies across Africa, looking to kick off or switch careers into the Site Reliability Engineering (SRE) field.
Accepted participants are taught by well-experienced Cloud experts in a classroom setting, working with a well-curated learning path inclusive of tasks, projects etc to help them grow required practical skills in the field.
Requirements for the ELIGIBLE candidates
1. Be an active member of the She Code Africa Community (sign up here: www.shecodeafrica.org)
2. Have basic knowledge of programming
3. Possess a working Laptop and have access to internet connectivity for the full duration of the program
4. Be willing to commit at least four hours a day to learning activities
5. Be available for virtual classes each weekend
RECOMMENDED: Beginner to Advanced Website Design Course
How She Code School works
Step 1: Indicate interest by confirming eligibility and applying
Step 2: Scale the application process and get an acceptance/rejection mail
Step 3: Upon being accepted and program contract terms signed, applicants will be onboarded and introduced to the assigned class technical facilitator
Step 4: Connect with your facilitator and teammates
Step 5: Work with your assigned facilitator and program curriculum for the next 2 months
Step 6: Participate in monthly assessments of your facilitator and program
Step 7: To be eligible for graduation from the SCA Cloud School, participants must carry out Item 1 and any of Item 2 and all of Item 3:
     1.  Publish/Push a related project built during the program
     2. Publish a technical article / Public speaking on a technical concept learnt via the program
     3. Complete a technical assessment  
SEE ALSO: Access Bank & Udacity Advance Scholarship for young Africans 2023
How to Apply for She Code Africa Cohort 4
To apply for the She Code Africa cohort 4, CLICK HERE
Application Deadline: 17th of March, 2023
---
Share on:
---
Follow us on social media
---