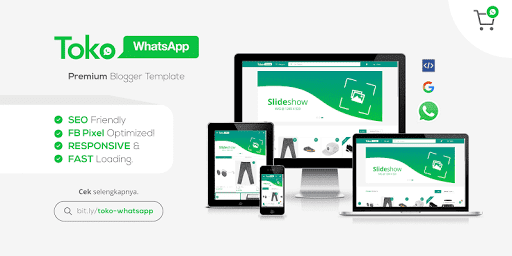 FREE Toko Whatsapp Blogger Template [DOWNLOAD]
---
Are you looking to build a professional website on Blogspot/Blogger in 2023? You can do more with Blogspot when you use the right blogger template. See one of the best Blogspot e-commerce templates you can use. It is called Toko WhatsApp Store Blogger Template.
Fortunately for you, you can get it for free.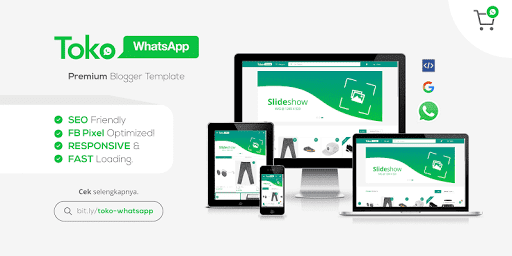 What makes the Toko WhatsApp Store Blogger Template special?
It is special because you can create an online store and redirect your customers to your WhatsApp account for them to checkout.
Download Toko WhatsApp Blogger Template Free
TokoWhatsApp V.1.2 Responsive Blogger Template is a Blogger-based Online / E-commerce Store integrated with WhatsApp Contact Form (Instant Checkout). The Toko WhatsApp Blogger template is specially designed to make it easy for sellers & buyers to place orders through WhatsApp.
Toko WhatsApp Store Blogspot template is equipped with cool features that can be used as an excuse, for you to use WhatsApp Store!
Toko WhatsApp Blogger Template Features
Responsive Web-Design
SEO Friendly (Meta Tag & Google Test). Check All-in-one SEO Pack here
Lazy Load / Fast Loading
Live Edit
Product Category + Number
Static Notification Button
Dynamic Menu
Social Media Optimization
Product Sorting
Product Navigation
Gallery & Product Description
Direct Marketplace
Share Product
Price Discount
Soldout Settings
3 Benefits of Shopping
Logo & Description + Social Media Footer Button
Store Address, Payment / Delivery Information & Contact Keys (Telephone, WhatsApp, E-mail) Footer
Copyright, Menu lines & Credit
Download the Toko WhatsApp blogger template for FREE.
---
Share on:
---
Follow us on social media
---