DOWNLOAD Freebify Blogger Template [For FREE]
---
Freebify blogger template is a fast, professional, modern & fully customizable responsive blogger template. Freebify is also ideal if you want to monetize your website via banners, as it is one of the blogger themes with the largest number of sections for banners.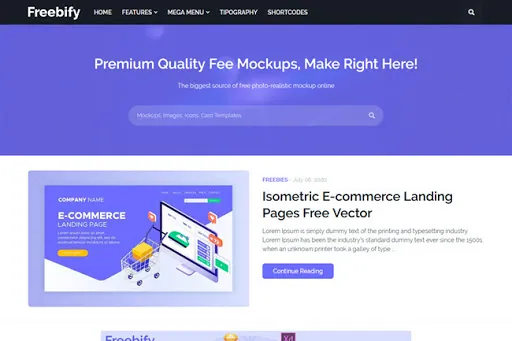 Freebify blogger template is fully customizable, which means that you can create several different blogs with the same template. Customizations are made through the blogger-dedicated page for this purpose, which means that you don't need to have any coding knowledge to customize this theme.
If you need a professional and fast theme with SEO Optimized and also Adsense Friendly, Freebify Responsive blogger template is the ideal template for you.
This template was developed by Templateify.
SEE ALSO: FREE DOWNLOAD – Souq Store E-commerce Blogger Template
Features of Freebify Blogger Template
100% Responsive Design
MegaMenu by Shortcodes
One-Click Fixed Menu
Advanced Hero Section
Big Featured Post Section
Header Ads
AdSense (In-Feed ADS) on Homepage
Post ADS 1 and 2 on Post Page
Exclusive Download Button
Responsive YouTube Videos
Content Table Support
Advanced Post Share Buttons
Advanced Author Box
Disqus and Facebook Comments
Embed Video and Image in Comments Via Links.
Sidebar Post Widgets by (Recent, Label or Comments)
One-Click Fixed Sidebar
Footer Ads
Powerful Footer Sections
Custom Copyrights
Footer Menu
Fast Loaded
SEO Optimized
Fully Customizable Background, Widths, Colors and Fonts
No Encrypted Scripts
Download the Freebify blogger template for free.
---
Share on:
---
Follow us on social media
---