Best Way To Get DotPay POS Machine (from DotPay Africa) in 2023
---
This is a detailed guide for you on the best way to get DotPay POS Machine for your business in Nigeria. Your business grows when you can easily get paid by your customers. DotPay Africa makes that possible for you,
In this guide, you will know:
What/who is DotPay Africa company all about
Who owns DotPay
Mode of payment for DotPay and so on.
DotPay Africa loan
How to Become a DotPay Agent or Aggregator
Let's get started.
Why do you need POS Machine for your business?
In this era, any business that refuses to go with the flow will soon be obsolete/forgotten and the owner will either go bankrupt or change business. You need a POS machine to let your customers pay you easily because we are in Cashless Policy in Nigeria. The more options you give your customers, the more money you can make from your business.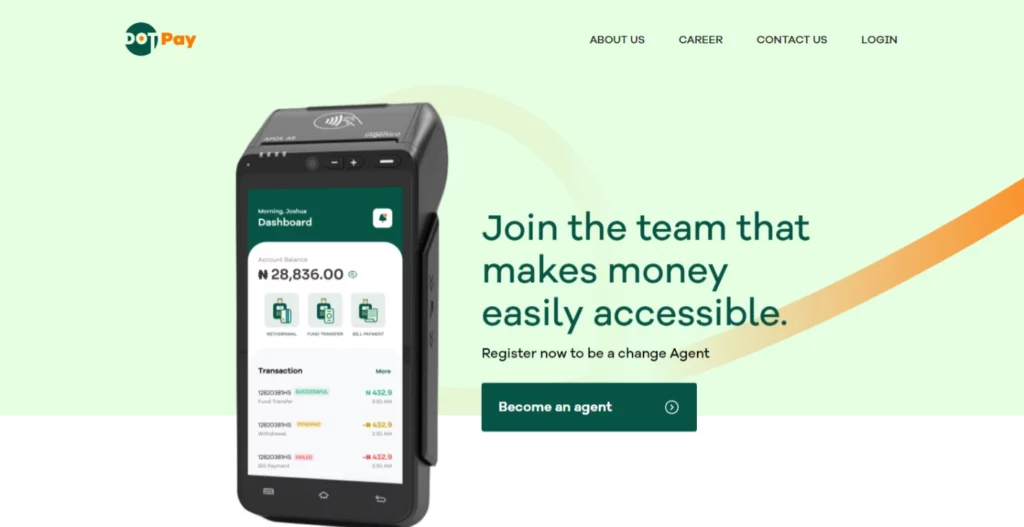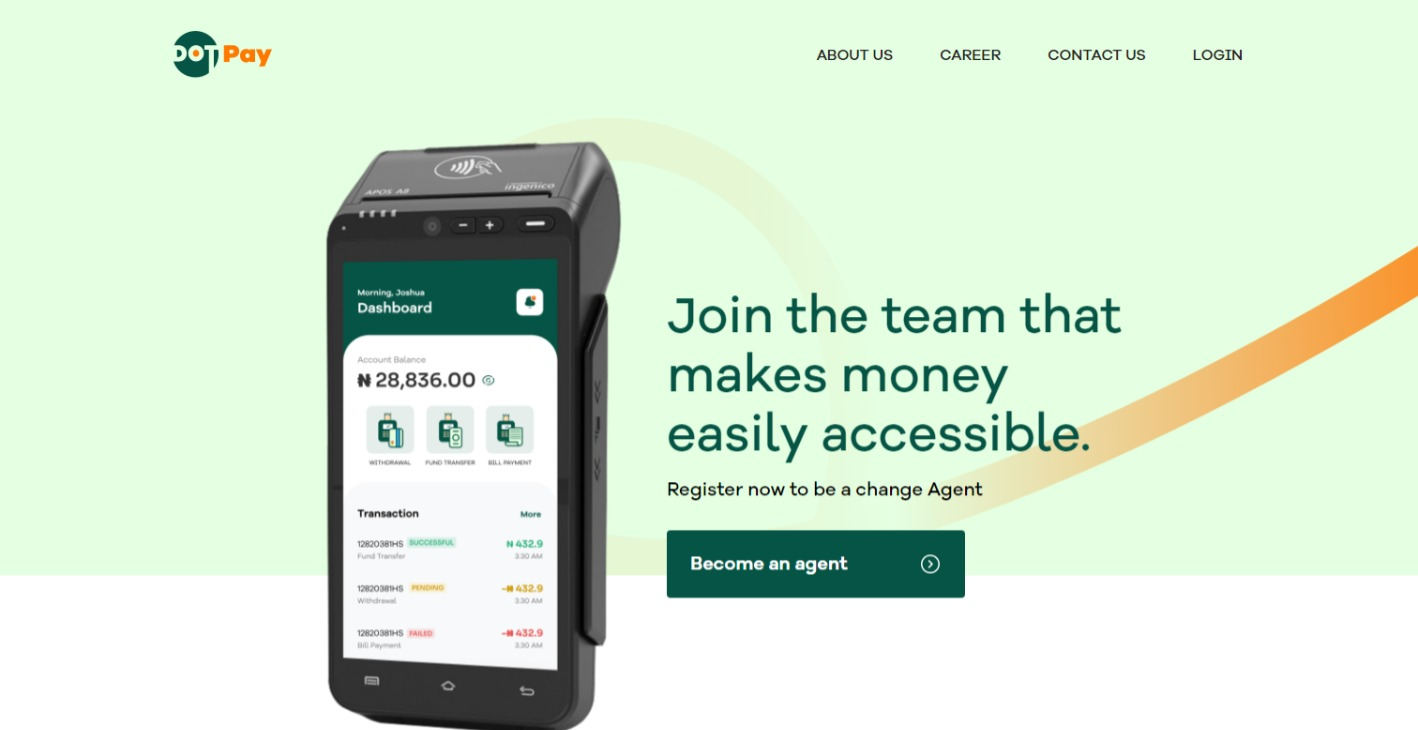 About DotPay Africa: Objectives & who owns DotPay?
Dotpay is an agency banking provider to help millions of underbanked Nigerians to access secure and convenient banking. According to them, "We are people from diverse backgrounds banded together to help millions of underbanked Nigerians access secure and convenient banking services by bringing the bank to all local communities."
The sole purpose of DotPay is to let Nigerians and SMEs have a smooth business experience. 
What does DotPay POS do?
It enables merchants to accept online payments, providing a payment gateway with a shopping card.
What services does DotPay render?
DotPay offers some amazing features for Nigerians. Below are some of the features of DotPay:
DotPay helps you to send or withdraw money: Instead of queueing in the bank, there are hundreds of DotPay agents to help you withdraw money or send money to your loved ones across the country(Nigeria).
Paying bills online: With the DotPay POS machine, you can pay bills such as Electricity, mobile data, water and so on. There are DotPay agents to help you with these because you necessarily have to own a POS machine before you can enjoy this.
Grant you access to loan services: Reports have it that DotPay offers up to N5 million loans to businesses but this can be achieved in some locations as it is not yet nationwide.
How to Become a DotPay Agent in Nigeria
Do you want to make money by the side as a POS agent in Nigeria?
See the Requirements to become a DotPay agent below:
You must be over 18 years of age
Possess a valid means of identification (NIN or Voters Card)
Passport photograph
Utility bill (PHCN, Water, etc)
BVN and aggregator
Capital to start
RECOMMENDATION: You must make sure you are in a location that favours POS business (school area, Market area, etc) and try to avoid too much competition.
DotPay Agent Registration: What you need to become DotPay Agent
Having gotten the requirements above ready, do the following:
Visit any DotPay office close to you
Request for agent form and fill it out accordingly
You will be charged a small token
For more info, connect with DotPay customer service via this number: 08102887834 
You can also visit the DotPay Agent registration page here.
How to get DotPay Africa POS Machine
All you need to get DotPay POS Machine is a sum of N20,000 (it serves as the caution fee). If you are getting it from DotPAy Aggregator, you may be looking for something between N25,000 to N30,000. This is due to the logistics and other things.
How to Become DotPay POS Aggregator
An Aggregator is someone or a company that negotiates with producers of a utility service such as electricity on behalf of groups of consumers. In simple terms, see DotPay Aggregator as someone that helps DotPay agents get the POS.
To become an aggregator, visit their nearest office or reach them via the customer care line: 08102887834
Best way to operate DotPay POS Machine
Just like every other tech gadget, it needs to be fully charged and make sure you don't let it drop accidentally.
As for the DotPay daily target, you are expected to have at least 20 transactions daily. Failure to achieve this may result in the POS Machine being seized from you.
Things you can do with DotPay POS
Open bank account
Deposit or Withdraw cash/funds
Make bill payment
Recharge Data/airtime
DotPay POS commission
As an agent of DotPay, you will get a 1% commission on Bill payments and N5 commission on N1000 transfers or withdrawals.
DotPay Address: Where is DotPay Located?
DotPay is located at N0: 366, Muritala Mohammed Way, MJS Building, Yaba Bus-stop, Lagos State.
DotPay EMAIL: hello@dotpay.africa
RECOMMENDED: Top FASTEST Ways TO Make Money Online In Nigeria
How to apply for a loan on DotPay
If your business falls in the SMEs category, you will be able to apply for Dotloan/DotPay loan.
As of the time of publishing this article, DotPay loan is based on selection rather than application. This means, they presently only grant loans to agents who have worked with them for a very long time and have made something good with them.
Only these people are qualified for DotPay loans to support their businesses. Presently, the DotPay loan is N50,000.
What is the interest on the DotPay loan?
DotPay loan interest is 5% and you are expected to pay it back daily.
Wrapping up the Best Way To Get DotPay POS Machine
If you want to run a smooth business in Nigeria and allow Nigerians the opportunity to make payments for your services without problems, you should consider having a POS. If you want to make money on the side, you may want to consider being a POS agent. DotPay Africa POS Machine offers you the opportunity and also to help your business grow.
Do you find this article helpful? Don't forget to share.
---
Share on:
---
Follow us on social media
---