Build Forum Like Nairaland With WordPress: What you need
---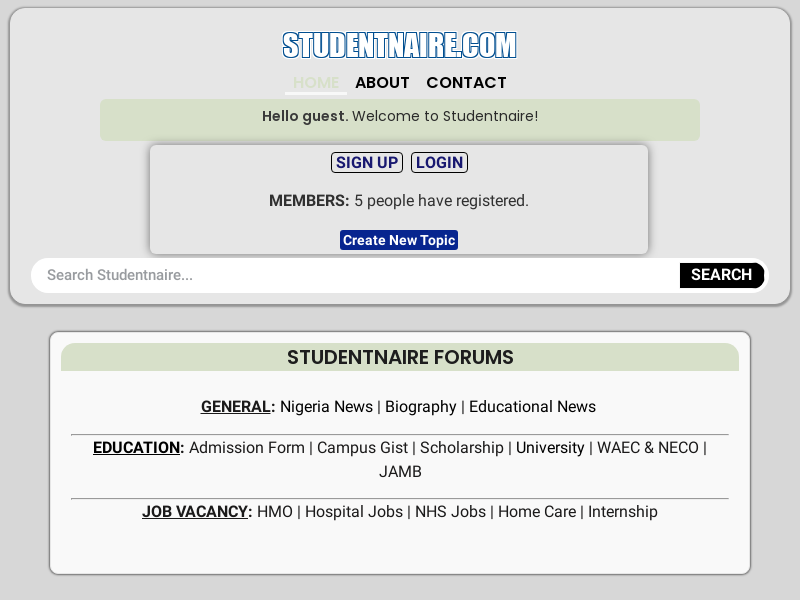 Oh yeah, you can create or build a forum like Nairaland with WordPress without breaking the bank. Have you been wondering if it's possible?
In this article, I will be showing you what you need to create a forum website that looks like Nairaland on WordPress and feel like it 70% in functionality.
If you have been looking for:
Nairaland WordPress theme
Nairaland wordpress template
How to download Nairaland theme
Create a website like Nairaland on WordPress
You're in the right place.
Show me a forum built with WordPress that looks like Nairaland! Here is it: Studentnaire.com
WordPress can't build forum?
No, you're wrong. WordPress is not only for blogging, you can build simple to complex websites with it, forum is not excluded. For a website who is not knowledgeable, it may be impossible. You can create a forum that looks like Nairaland without buying any script.
RECOMMENDED FOR YOU: Beginner to Advanced Website Design Course
What you need to build a forum on WordPress
The things you need are;
Reliable hosting account that can handle running a forum (at least 20GB disk space)
Domain name (can be any extension)
Forum plugin (I recommend bbpress because its an open source)
A page builder (I use and recommend Elementor)
At least the basics of HTML, CSS, Javascript and PHP
DEMO: Studentnaire.com
I can't build it myself how much should I budget?
If you are not a website developer and still want to have a forum like nairaland on WordPress, you can hire a web developer to do it for you (Alpha Web Consult is always at your service). Budget at least $150.
If you are WordPress designer, I can sell the forum template for you (you must know how to use Elementor VERY well). It will cost you just $50. Installation is $25 extra.
Using these tools gives you the flexibility to modify and make the forum look anyhow you want.
There are also some awesome forum plugins but are paid.
SEE ALSO: Naijaloaded Blogger Template (FREE DOWNLOAD)
Wrapping up how to build forum like Nairaland with WordPress
Anything is possible with WordPress. You would believe me if you were a pro WordPress designer or a developer. If you need a forum like Nairaland on WordPress ad need help building it, you now know what you need to achieve your goal.
If you need the template of the forum, Studentnaire.com and installation done for you, it will cost you $75 ($50 for template, $25 for installation)

– Dapo Obembe
---
Share on:
---
Follow us on social media
---